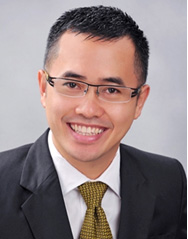 CORPORATE TRAINER / ENTREPRENEUR MENTOR / LIFE COACH
CHI POH YUNG
Chi Poh Yung earned a bachelor's degree in Business Administration (Hons) at the Northern University of Malaysia (UUM) and chalked up a long track record in business development, insurance, and entrepreneurship.
Poh Yung lives by the motto "Life, I Decide" which encourages one to focus on one's values and goals, thus, to live an abundant life. This has motivated him to start a corporate training company called Richmind Consultant in 2016 that focuses on mindset transformation, and leadership development, sales & marketing, entrepreneurship and team building.
He has more than 20 years of experience in sales & marketing, which includes holding leadership role in this field, and had held senior management positions in all the companies he had worked before. Since 2005, he has mentored and coached hundreds of people in Kuching, Sri Aman, Sibu, Miri and Bintulu. His clientele came from various industries which included financial, insurance, shipping, fast moving consumer goods, property companies, supermarket, government agencies, NGOs, etc.
He is a Human Resources Development Fund (HRDF) Certified Trainer in the country. In 2017, he was one of the 20 entrepreneur mentors and coaches sent by HRDF to The Entrepreneurship Development Institute of India (EDII) at Ahmedabab in Gujarat, India to be trained as a Certified Entrepreneur Mentor in Malaysia.
His work experience includes being the Assistant Director of Agency and a Regional Development Manager of Prudential Assurance Malaysia Berhad; an Assistant Agency Development Manager of Hong Leong Assurance Berhad. Prior to joining the insurance sector, he was in the education sector as the Head of Local Sales Office and International Marketing Coordinator (Africa and Indonesia Regions) of INTI College Sarawak, and as a Business Development Manager of King's Business Institute.
He is the Kuching and Samarahan Division Cerebral Palsy Association (Wishesland) co-founder and president, the Sarawak BOCCIA Association co-founder and vice president, and PDK Bestari Siburan Ex-Officio and PERKATA special school's Parents Teachers Association committee member.
In recognition of his accomplishment and contribution in the value of innovation, intellectual and infinity in training industry, he was awarded by the Malaysia Global Chamber of Commerce the ASEAN IN Award 2018 – Aspiring Educator Award on 9.11.2018.
He is the author of the book entitled "You become what you think" which will be published in 2019.